As one of a group of 15 Swedish artists, I was invited to take part of the 6th edition of the European Triennial of Contemporary Jewellery. The exhibition is arranged by WCC-BF and includes work by artists from Belgium and two other European countries – this year France and Sweden.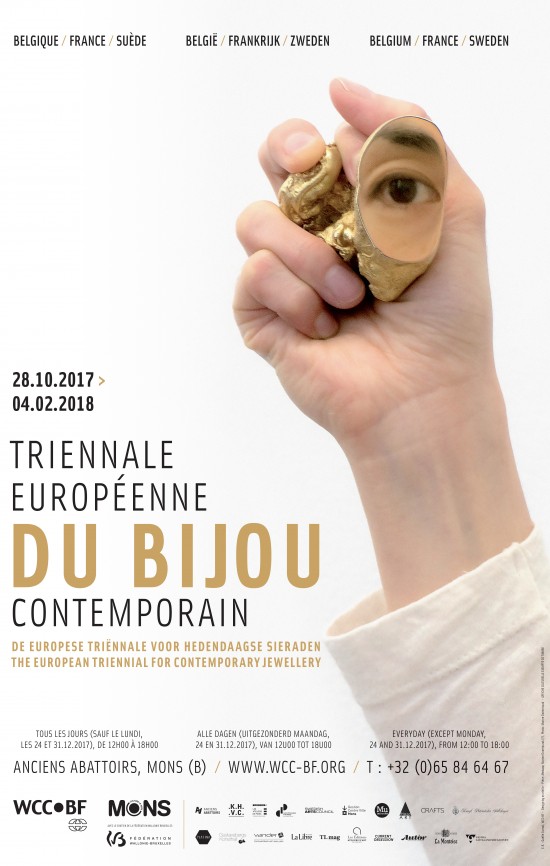 In contemporary jewellery wearable objects are used as visual expressions. Material and technique leads to personal translations of our time. Many of the artists take interest in reuse and upcycling, gender issues, environment and social involvement. The curator of the Swedish delegation, jewellery artist Sofia Björkman has been looking at what Swedish artists in the field has been creating the last years and made a selection that reflects these different themes.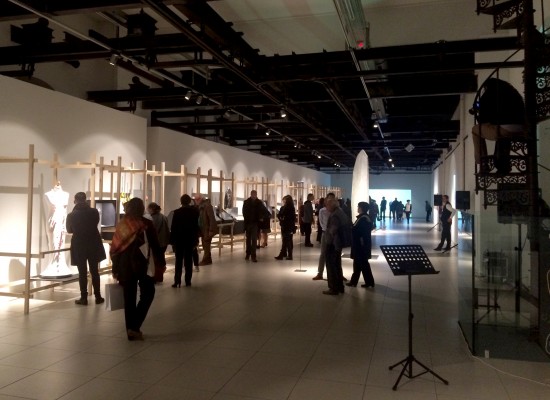 European Triennial of Contemporary Jewellery, display at Anciens Abattoirs in Mons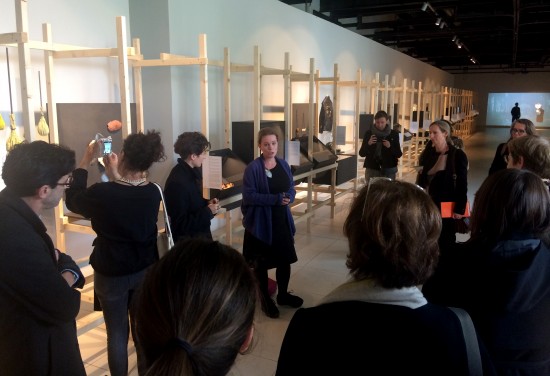 Presentation by the Swedish curator and jewellery artist Sofia Björkman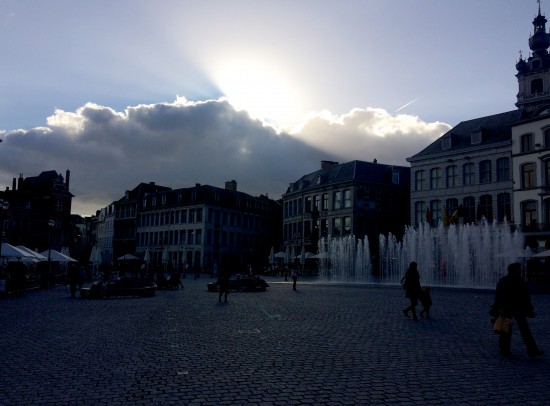 Grand Place de Mons
On the 27th of October the exhibition opened in an old slaughterhouse where the hooks and steel constructions in the ceiling spoke about the history of the building – Anciens Abattoirs. The exhibition runs until 4th of February and will then travel to Gustavsbergs Konsthall where I hope to see you on the 17th the same month!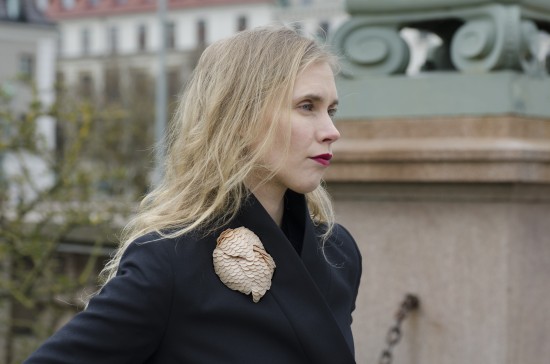 Fjällfink, 2017, brooch on display at European Triennial of Contemporary Jewellery by Karin Roy Andersson made of recycled plastics (soap bottles), textile and steel. Model Ammeli Engström
Participating artists
Belgium
Clarisse Bruynbroeck • Liesbet Bussche • Isabelle Carpentier • Frédérique Coomans • Clémentine Correzzola • Bernard François • Max Gielis • Jonathan Hens • Lodie Kardouss • Jorge Manilla • Patrick Marchal • Dimitar Stankov • Sébastien Vandekerckhove • Octave Vandeweghe • Eve Wolfs. Curator: Françoise Vanderauwera
France
Marianne Anselin • Stella Bierrenbach • Babette Boucher • Monika Brugger • Sébastien Carré • Marion Delarue • Marine Dominiczak • Sophie Hanagarth • Florence Lehmann • Isabelle Leourier • Marie Masson • Nathalie Perret • Galatée Pestre • Céline Sylvestre • Laurence Verdier. Curator: Brune Boyer
Sweden
A5 (Adam Grinovich & Annika Pettersson) • Tobias Alm • Lisa Björke • Linnéa Eriksson • Mia Fkih Mabrouk • Catarina Hällzon • Helena Johansson Lindell • Agnieszka Knap • Agnes Larsson • Li Liang • Kajsa Lindberg • Karin Roy Andersson • Jelizaveta Suska • Sanna Svedestedt Carboo • Johanna Törnqvist. Curator: Sofia Björkman
The trip to Mons was made with support by Iaspis – The Swedish Arts Grants Committee's International Programme for Visual and Applied Artists