Alkemisterna
Alkemisterna – the Alchemists – is Diagonal's idea for a tv-show about art jewellery. We have made a pilot episode to present the subject and the topics we want the future tv-show to highlight. The purpose of the tv-show is to increase the interest for craft and contemporary jewellery.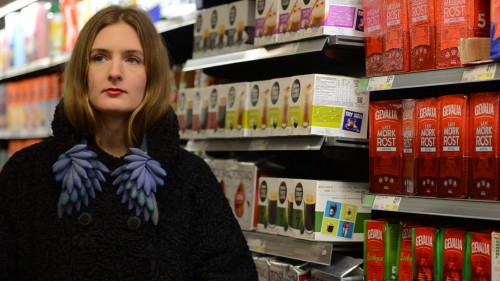 Trophy, necklace by Tanel Veenre. Model Sofie Gillstedt
Why go through the trouble of making a pilot?
Jewellery art is a small branch of the art world. Most people still imagine diamond rings and bling when you say the word jewellery. The pilot is made to illustrate what we mean when we talk about jewellery. Now also remember that we are not professional film-makers and that this pilot is to be seen as a draft for a future production.
Materials in the centre of attention
Wood, stone, plastics and leather are materials that most people have some kind of connection to. These materials surround us in our daily life, we know what they feel like and many of us have, at some point, tried making something out of them. We think that finding a common ground – the relation to the materials, is a good way to catch the audience attention.
The next step is to pitch the idea to possible partners, producers and financers and we hope that our dream project Alkemisterna will be realised and put into production. The main part of the pilot is in Swedish but our aim is to make a subtitled version for the international audience.
Watch the pilot here: www.diagonalartprojects.com
If you think this sounds interesting and if you have ideas or suggestions, please contact us at info@diagonalartprojects.com

Alkemisterna is a project supported by Konstnärsnämnden – the Swedish Arts Grants Committee.