The Nobel Jewellery Prize
The Nobel Jewellery Prize was introduced in 2010 by Diagonal Art Projects. Since then the prize has been awarded five times to intelligent, creative and innovative jewellers.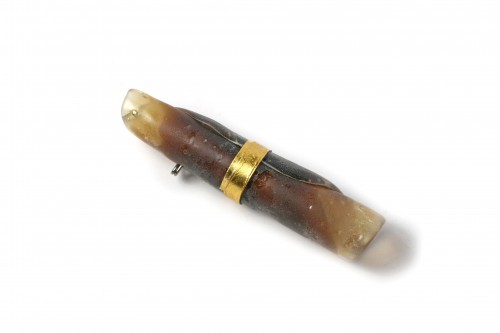 Brooch by Lisa Walker, 2003, glue, gold (24ct) courtesy of The Young, Wellington, New Zealand. Private collection
Nobel Jewellery Prize winners of 2015:
Literature
The Nobel Prize in Literature 2015 was awarded to Svetlana Aleksijevitj. By collecting and capturing self experienced stories from people around her she paints a vibrant, honest picture of life as it is.
The 2015 Nobel Jewellery Prize in Literature goes to Lisa Walker. This artist assembles objects and pieces from the environment around her. She has a unique eye for details and her work reflects the ambiance of both past and present times.
Chemistry
Tomas Lindahl, Paul Modrich and Aziz Sancar got the 2015 Nobel Prize in Chemistry. Their research has revealed how damaged DNA is repaired and how genetic information is protected. This knowledge can for example be used when developing new cancer treatments.
Alexander Blank is well known for his bold and challenging artistic expression. In the "Jimmy" series Blank has used portraits of famous or "quasi-important" people. Parts of the faces have been erased, cutting off some of the information and some of the person's trademark. Alexander Blank investigates how information is lost and how new information is found again. He has learned to master the skill to capture materials and information and transforming it into pieces that leaves no viewer indifferent to his work. For this achievement we are awarding Alexander Blank the 2015 Nobel Jewellery Prize in Chemistry.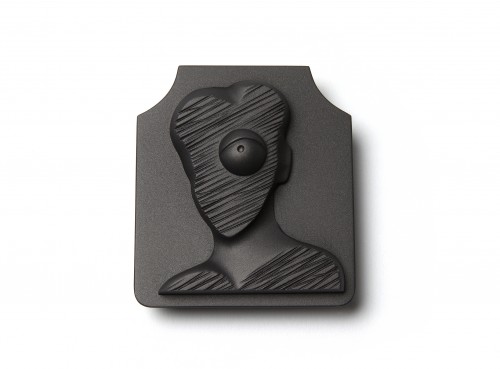 Jimmy brooch by Alexander Blank, 2013, high density foam, graphite, silver, paint. Photo: Mirei Takeuchi
Medicine
2015's Nobel Prize in Medicine was given to William C. Campbell and Satoshi Ōmura for creating a new therapy for malaria and other infections caused by parasites. They have discovered and refined medicines that treat diseases causing suffering and death.
Satoshi Ōmura has developed traditional Chinese medicine with modern knowledge making a cure for one of the largest epidemics of our time. We are giving the Nobel Jewellery Prize in Medicine 2015 to Estonian artist Nils Hint.
Nils Hint conjoins traditional jewellery with the raw, heavy aesthetics of a blacksmith. Hint's jewellery pieces reveal an unexpected inner nature of the smithery and shows it's naked beauty. Hint has developed contemporary artwork where the silhouettes speak of industrial history and at the same time indicates an interesting and beautiful future.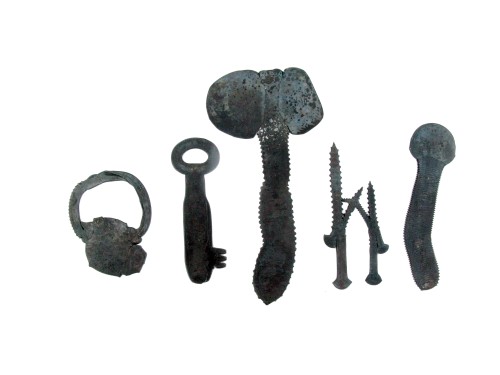 Shadow, brooches by Nils Hint, 2014, forged iron. Photo: Nils Hint
Physics
Takaaki Kajita and Arthur B. McDonald have proved that neutrinos have the ability to change identity. Thousands of billions of neutrinos run through our bodies every second. They used to be considered to be without mass but the winners of the Nobel Prize in Physics 2015 have made it clear that they do. This discovery changes our notions about the universe, it's history and future.
The Nobel Jewellery Prize in Physics 2015 goes to David Bielander. This artist transforms the core of the material, induce a new quality that totally changes the identity of the material as well as our comprehension of weight, value and substantial structures.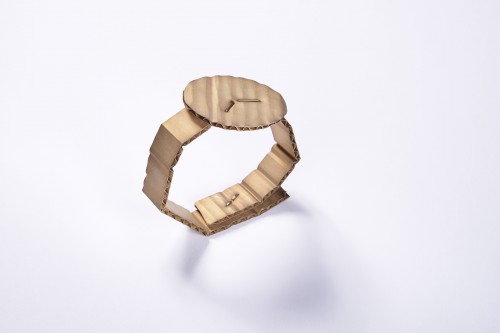 Cardboard, bracelet by David Bielander, 2015, silver patinated, white gold. Photo: Dirk Eisel
Economy
The Prize in Economic Sciences in Memory of Alfred Nobel 2015 was this year awarded to Angus Deaton. By looking at consumption at an individual level he has mapped out economic patterns. His research gives answers on how to deal with poverty and to stimulate welfare.
One of the big problems of today is mass-consumption and production of unnecessary products. Art jewellery often contains more time, thought and craft than exploitation of natural resources. In the Contemporary Jewelry Exchange project jewellery artists are paired up and asked to create an individual piece of jewellery especially for each other.
By making pieces of jewellery especially for a selected person, the Contemporary Jewelry Exchange project and the publication visualizes the effect of creating custom made pieces. The Nobel Jewellery Prize in Economics goes to an initiative that creates custom-made solutions minimizing waste, turning time and thought into objects and makes for sustainable development.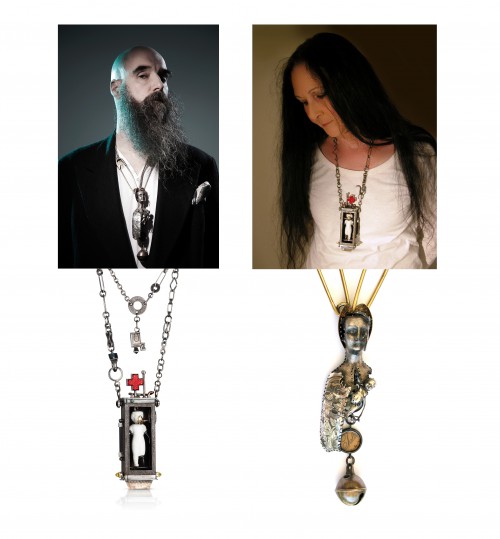 To the left: My Iron Lung. Pendant by Dauvit Alexande, corroded iron box-girder, silver, polycarbonate reflector material from a crashed car, nickel-silver rods, copper, 9 ct gold, included quartz, tourmaline, amethyst, peridot, emeralds, rare-earth magnet from discarded electric toothbrush, moulded glass doll, brass letter types. Photo: Simon Murphy (portrait) and Andrew Nielsson (pendant)
To the right: Saint Dauvit: Fragments from the Alter. Pendant by Jan Donaldson, sterling silver, brass, guitar string, hand-made paper, resin, 23ct gold leaf, "found" brass pins and bell.
Peace
The Jasmine Revolution enabled the build-up of democracy in Tunisia in 2011. The Tunisian National Dialogue Quartet was a strong and important actor in the revolution and in the time of political turbulence that followed. 2015's Nobel Peace Prize was awarded to a group that has created a democratic society that stands up for human rights, equality and freedom of speech.
Art Jewelry Forum is stepping up the game of global awareness of art jewellery by appointing individuals as AJF ambassadors for cities and countries that have an existing art jewelry scene, but tend to fall in the shadow of larger actors. This approach, and the possibility to nominate ambassadors from a country not yet represented, helps to fill gaps in the jewellery map. To an organisation giving a microphone to a variety of voices – the Nobel Jewellery Peace Prize 2015 goes to AJF*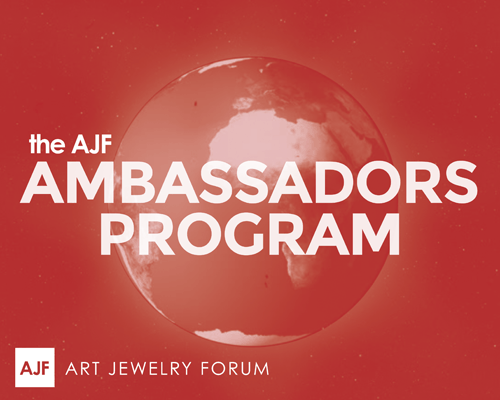 A big thank you to the amazing winners!
*The Ambassadors program highlights the mission of AJF which is to advocate for those within the field by bringing a wider awareness to the physical and intellectual creation specific to contemporary jewelry. AJF is an international organization working to advocate for the field regardless of location. The content on the website and in social media threads reflects this and the Ambassador program is a continuation of the mission. The AJF Ambassadors program puts a face to the abstraction of a country—someone you can reach out to with questions about that region.
Nobel Jewellery Prize – winners 2014
Chemistry
This year the Chemistry Nobel Prize was given to Eric Betzig, Stefan Hell and William Moerner for their research on super high resolution microscopy, which with high precision makes it possible to see nano scale details, for example in virus and bacteria.
We will award the 2014 Nobel Jewellery Prize in Chemistry to Carina Chitsaz-Shoshtary. Chitsaz-Shoshtary brings out details that have been covered in layers of graffiti paint. She reveals treasures and put them together creating new shapes that gives unexpected synergy effects.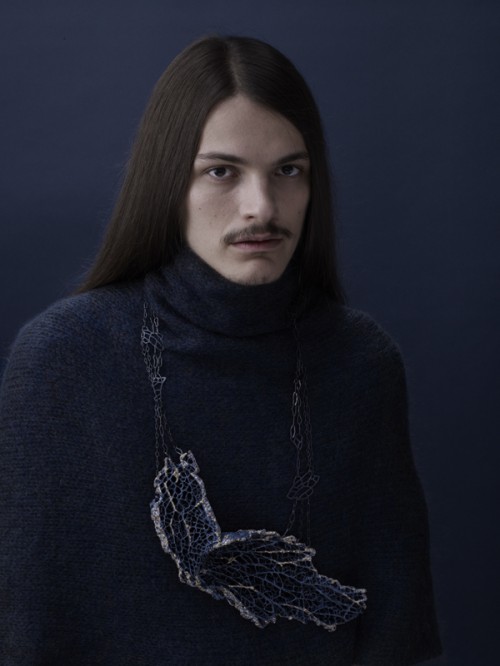 Carina Chitsaz-Shoshtary "Medulla 3″, necklace, 2014. Cactus, graffiti, silver. Photo: Laurens Burro
Physics
The 2014 Nobel Prize in physics acknowledge an invention that has revolutionized the modern technology. Isamu Akasaki, Hiroshi Amano and Shuji Nakamura gets the prize for their energy-saving and bright diodes. In other words – it was all about light and energy this year, and we follow the same line when we give the 2014 Nobel Jewellery Prize in Physics to Nhat-Vu Dang. Nhat-Vu Dang has been experimenting with light and colour, inspired by plants' way of using sun rays, adjusting their position in order to get the most of the valuable sun energy. His work puts focus on how to find new ways to use nature's techniques for sustainable development.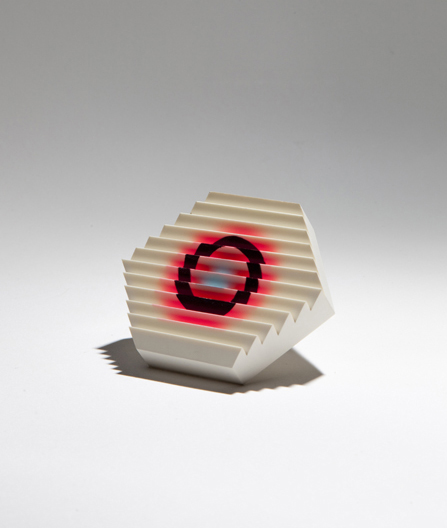 Nhat-Vu Dang, Blooming Rose / Brooch, 2014, rigid foam, lacquer, paint, glue, PVC, plexiglass, remanium steel
Medicine
John O'Keefe, May-Britt Moser and Edvard Moser got the Nobel Prize in medicine for their discoveries on how our sense of direction and our memory works.
We will give the Nobel Jewellery Prize in Medicine to Amy Tavern. Her jewellery work captures memories. Processed and transformed they are reinterpreted by the viewer and become platforms for discussions and new ideas. The installation "Departing Ship" paints a melancholic and beautiful picture of Alzheimer's disease. A help to ease and to process the sickness of a loved one.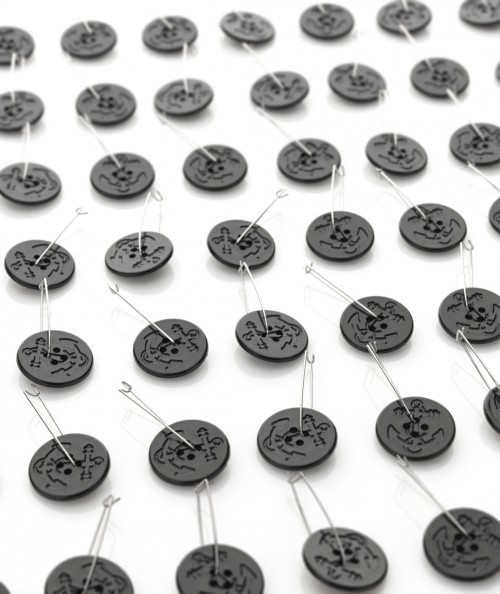 Amy Tavern, Departing Ship, 2014, 68 Navy pea coat buttons, safety pins. Photo: Hank Drew
Literature
Patrick Modiano from France got the Nobel Prize in literature. With the motivation "For the art of memory with which he has evoked the most ungraspable human destinies and uncovered the life-world of the occupation".
We would like to honour the Finnish artist Tarja Tuupanen with the 2014 Nobel Jewellery Prize in literature. Tuupanen is a master of stones. Out of agate, granite, marble and quartz she brings out shapes that reveals the raw soul of the stone and tells its history.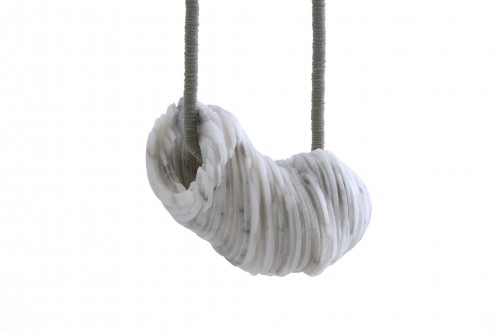 Tarja Tuupanen, necklace 2014, ready-made marble tableware, velour sticker, steelwire, brass. Photo: Lassi Rinno
Economy
The 2014 Prize in Economic Sciences in Memory of Alfred Nobel was given to Jean Tirole for his analysis of market power, a research providing tools to discover and control the influence of too dominant actors.
We give the Nobel Jewellery Prize 2014 in economy to Current Obsession. This magazine spread the rich and wonderful world of contemporary jewellery to places where it has not been seen before, breaking up the monopoly of the CJ-sphere.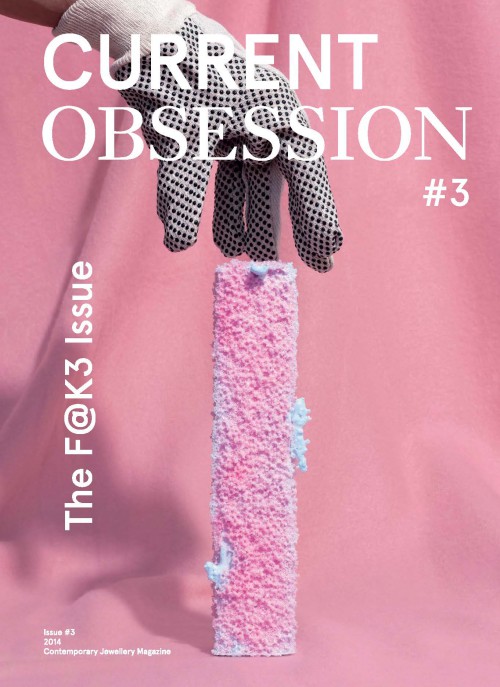 Current Obsession #3 The Fake Issue, cover image by Lonneke van der Palen
Peace
The Nobel Peace Prize was given to Malala Yousafzai and Kailash Satyarthi for their brave and important work against oppression of children and for young people's right to education.
Education leads to understanding and knowledge. It makes it possible for more people to take part in a democratic discussion and it provides tools to prevent conflicts. We will award the Nobel Jewellery Peace Prize 2014 to Mah Rana for the project Meanings and Attachments which offers a platform for discussions about jewellery as a part of our lives. A platform where people can participate regardless age, sex, cultural background or "CJ-experience".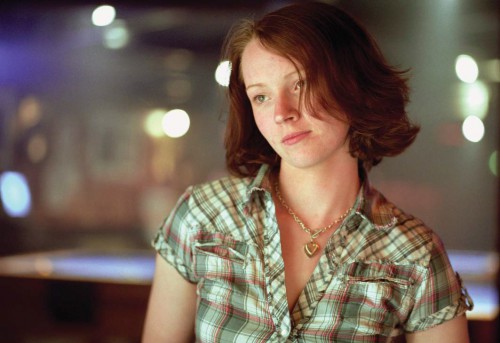 Jenny, 2006 "The meaning of the necklace is love, that I hold the power to find love." Photo by Mah Rana
We would like to thank all of you Jewellery Prize winners for your inspiring work. You definitely deserve a banquette and a fat prize check – we hope that day soon will come!
Nobel Jewellery Prize – winners 2013
The Nobel Jewellery Physics Prize 2013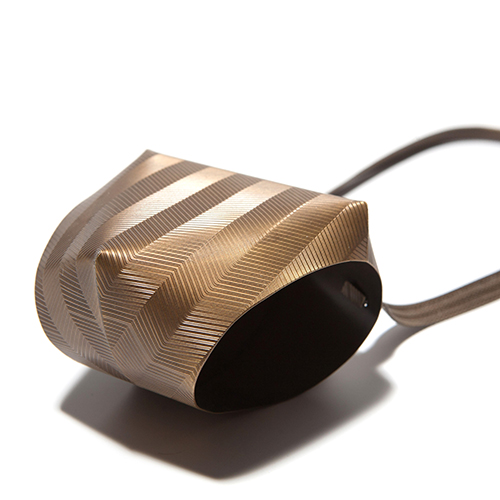 Frieda Dörfer, necklace, brass, 2013. Photo by Andreas Krufczik
Looking at the work of Frieda Dörfer can make you question what it is your eyes are telling you. The engraved patterns make the flat surface both three dimensional and highly seductive. The Jewellery Physics Prize is awarded Frieda Dörfer for creating magnetism using optical effects.
The Nobel Jewellery Medicine Prize 2013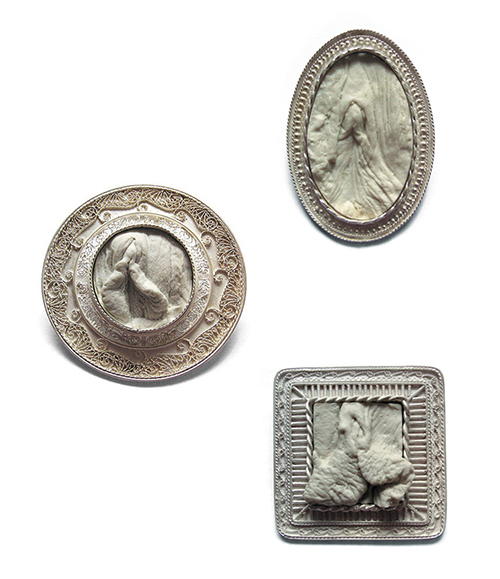 Carole Deltenre, Nymphes, broches, 2007–2009, porcelain, silver
Carole Deltenre has highlighted the genesis of all creativity, the source of life. Wearing her pieces is a strong and proud statement that this is something important to defend, value and homage.
The Nobel Jewellery Literature Prize 2013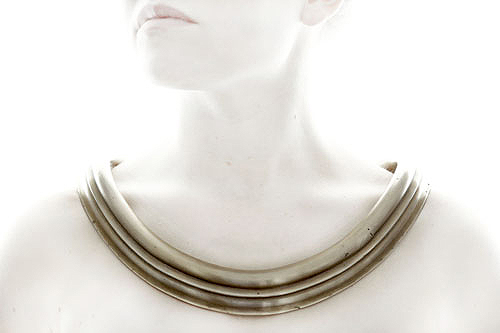 Kellie Riggs, Continuity/Structure (bronze III), 2011, patinated bronze. Photo: Jack Schow
The magic of really good literature is its ability to throw you in a certain state of mind. This necklace made by Kellie Riggs forces the wearer into both physical and mental position. It frames your thoughts and makes you focused and concentrated.
The Nobel Jewellery Economy Prize 2013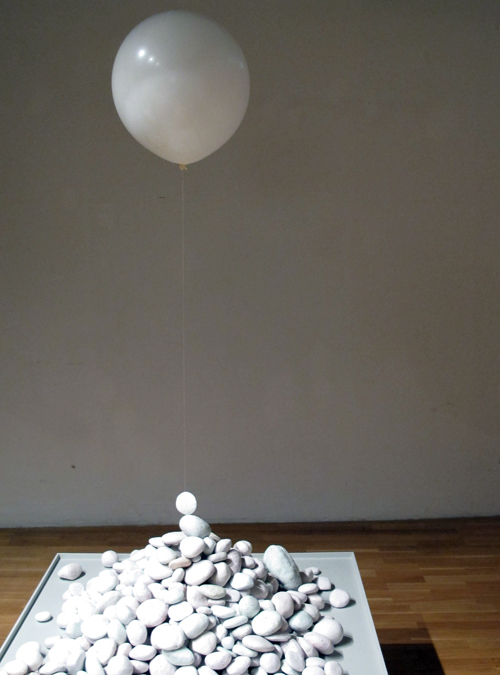 Tzu-Ling Lee, The lightness of life, Tzu-Ling Lee, installation 2011-2013
Consumption is what fuels the global economy. But for how long will this accelerating wheel be able to spin? Tzu-Ling Lee presents an installation of stones made of thousands of receipts collected by her friends. The "carat" of each stone is directly in response to how much that individual have been shopping during a period of time and the color variations comes from big spending in specific stores. The message and the aesthetic qualities are the genuine value of these precious stones.
The Nobel Jewellery Peace/Piece Prize 2013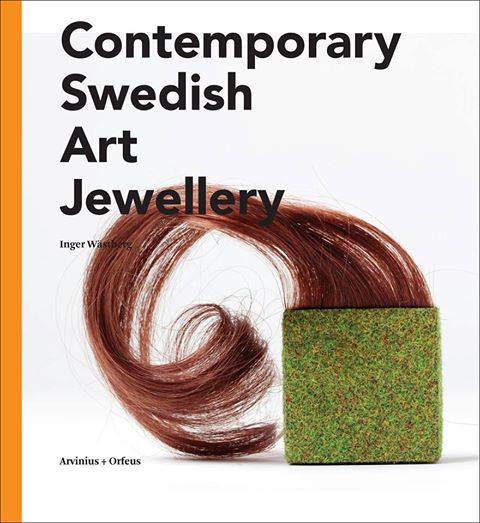 Cover of the book Contemporary Swedish Art Jewellery by Inger Wästberg
The intention of the Nobel Jewellery "Piece" Prize is to bring attention to a person, institution or phenomenon that works hard to bring more light on contemporary jewellery.
The price of 2013 is awarded to Inger Wästberg – collector, art historian and author of the new book on Contemporary Swedish Art Jewellery. The book presents thirty-one Swedish jewellery artists from the 1990s to today and explores how jewellery has evolved from a field defined by materials and techniques to its present state of concept and content.
Since the release of the book, Wästberg has been spreading the word of contemporary jewelry through various channels and reached large masses. The project has been seen on daytime TV and in fashion magazines, as well as in an exhibition and lecture for an auction firm. During the (real) Nobel Prize event a TV-presenter wore a necklace by Märta Mattsson, one of the artists featured in the book. We applaud this force of energy and dedication to bring more light on art jewellery.
To see the winners of 2012 – 2011 – 2010
please visit our blog at Klimt02