A Magic Night in Daylight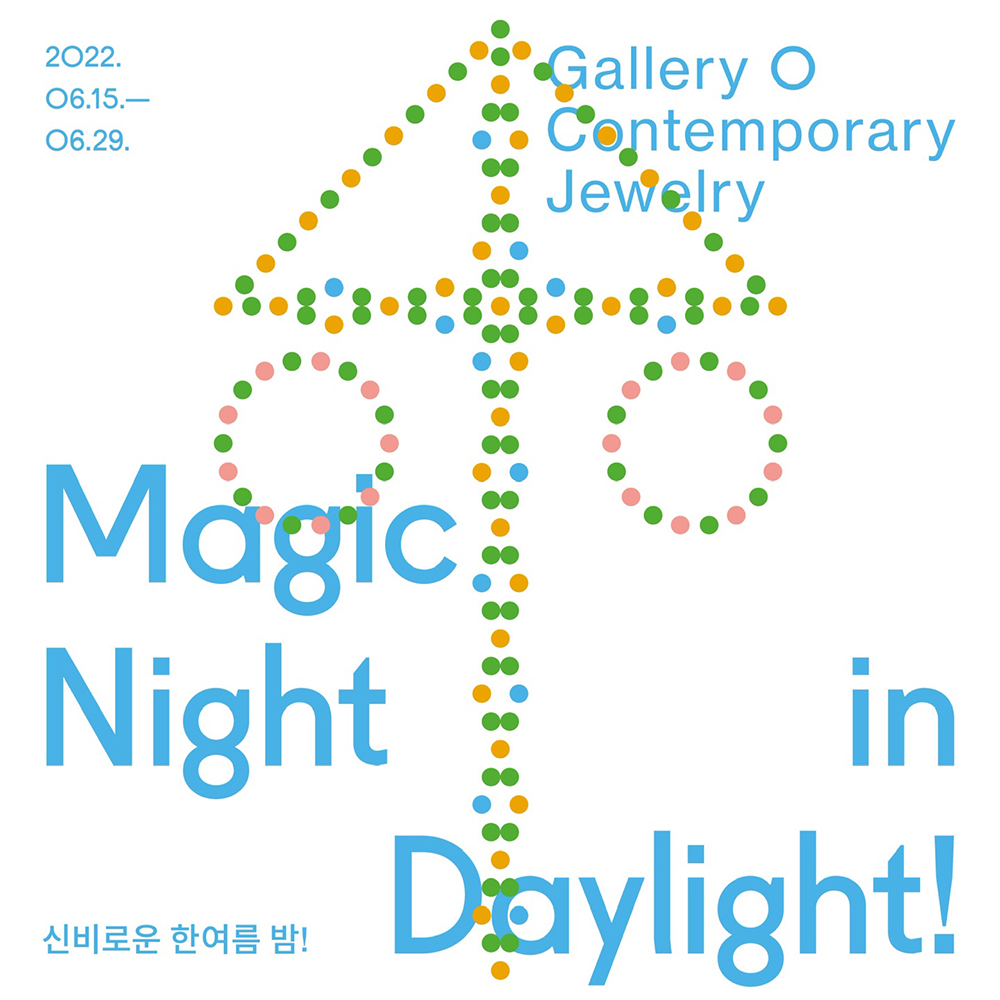 Midsommarafton/Midsummer eve is a tradition celebrated at the end of June when the hours of sunlight reaches its peak. During the day there is dancing, an overload of flower decorations and food. The celebration often turns into an almost hedonic party and the light midsummer night is filled with magic, romantic and even erotic myths. It's a night of adventures, beauty, nature and of course – jewellery!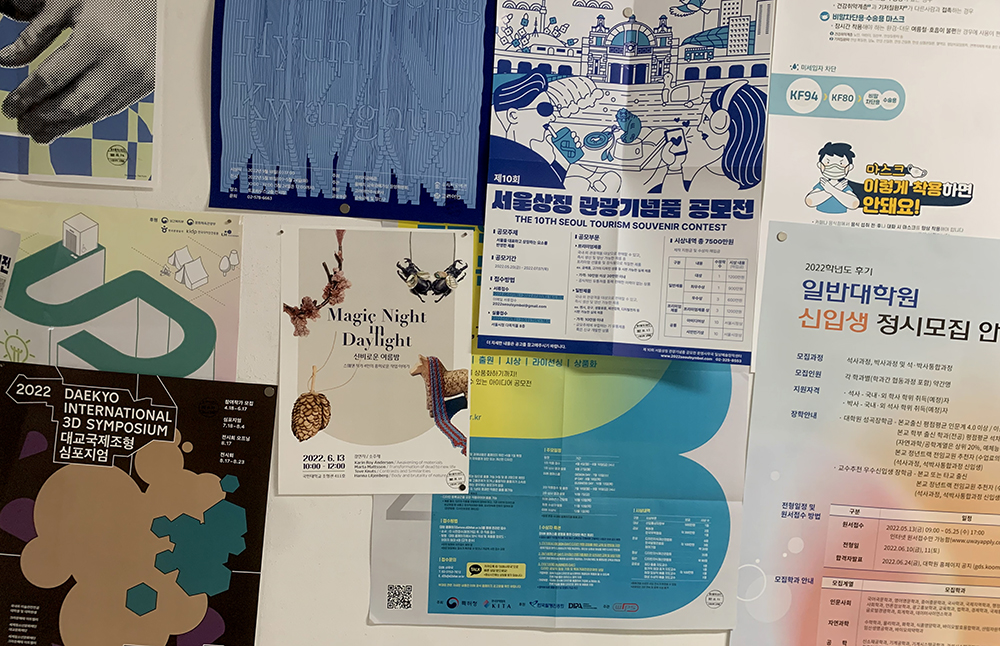 Hanna Liljenberg, Märta Mattsson, Tove Knuts and I came to Seoul in the beginning of June 2022. There were a lot of corona-related documents and tests to take care of before the departure but luckily the carantaine had been removed a couple of months earlier and when we finally arrived we were thrilled! The city smelled of food and flowers and cigarettes and the people were welcoming – smiling and making jokes behind the masks.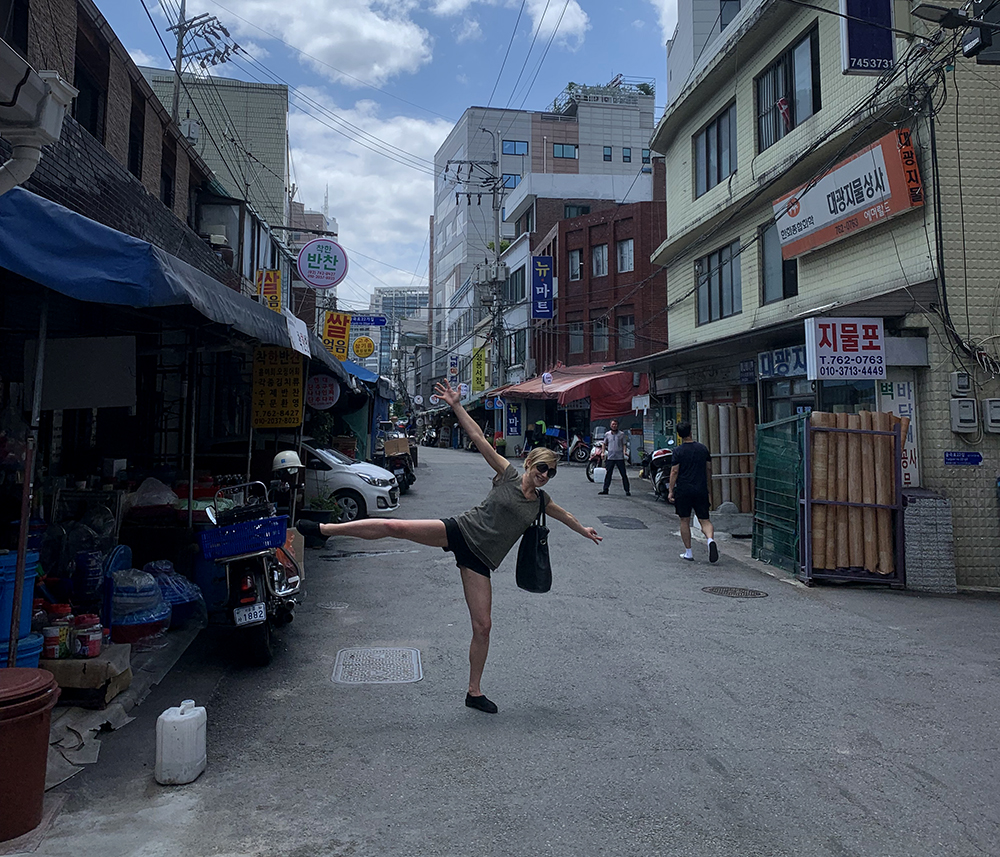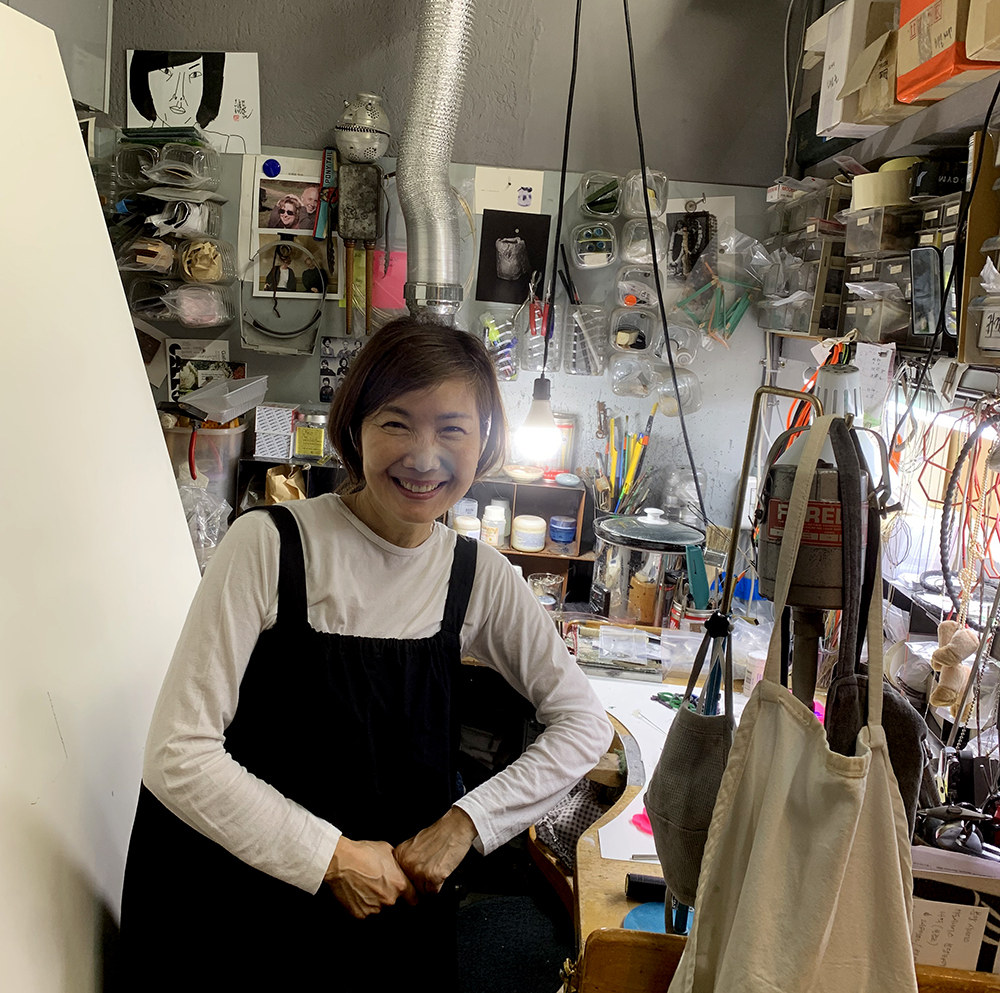 One of the smiling faces belonged to Miwha Oh – founder and manager of Gallery O, who had invited us to make an exhibition in her gallery at Apgujeongro-29gil Gangnam-gu. When we got to the gallery everything was prepared and we could start the set up directly. We decided to mix our pieces creating small groups of paper flowers, colourful insects, leather cones and a Dala horse with a punk hairstyle or maybe a brooch made of a wooden snuff box.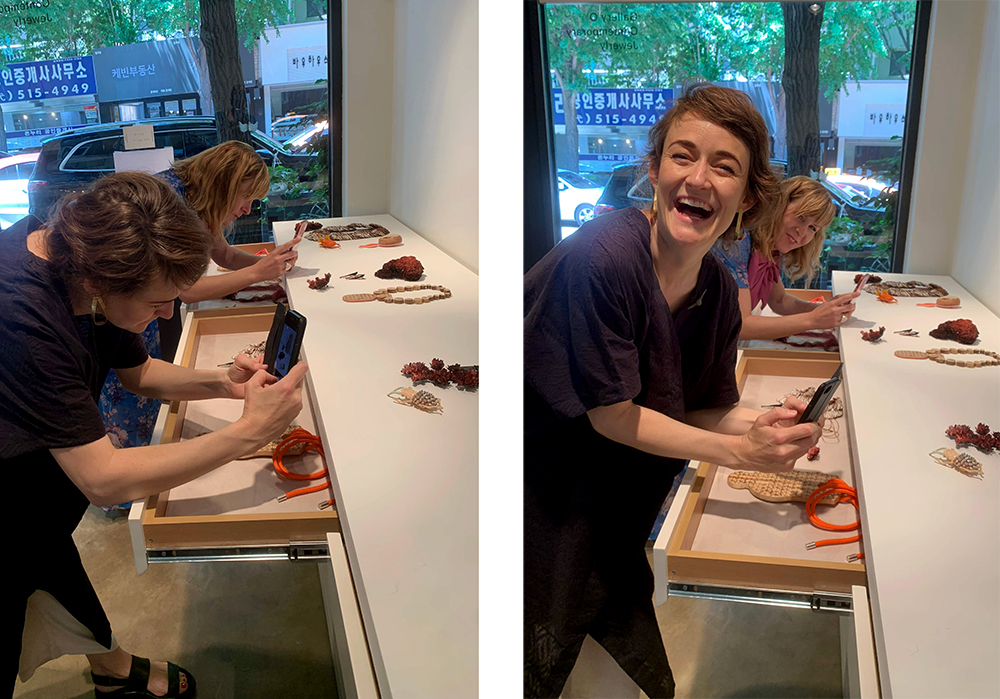 Two days before the opening we made a presentation at the Swedish Embassy and a lecture at the Kookmin University where we also got a tour of the school. It was wonderful to meet both the enthusiastic people at the embassy, the curious students and their professor Donchun Lee who had an exhibition at Four in 2015 and whose work completely took my breath away when I saw it the first time in Munich.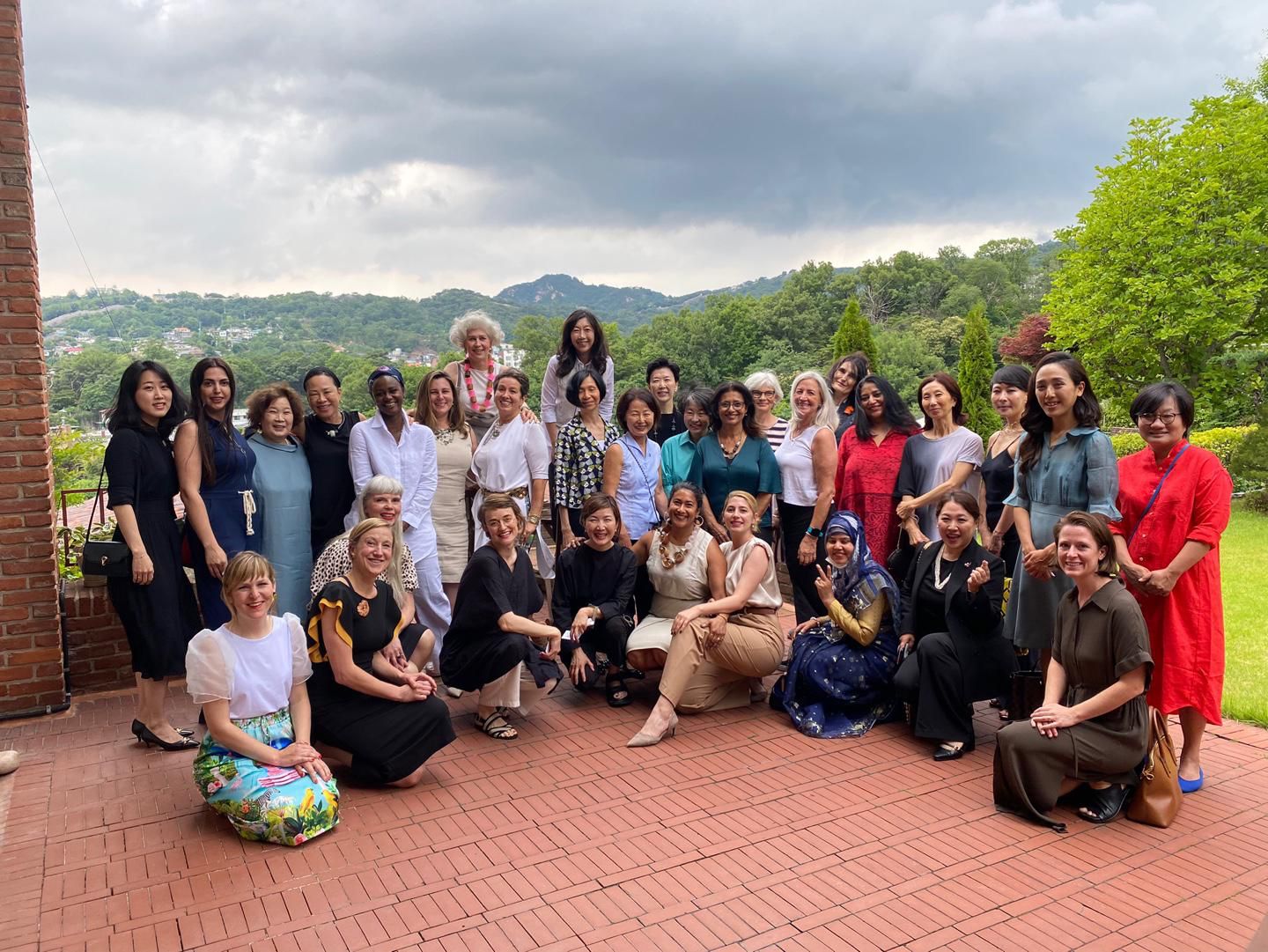 The Swedish Embassy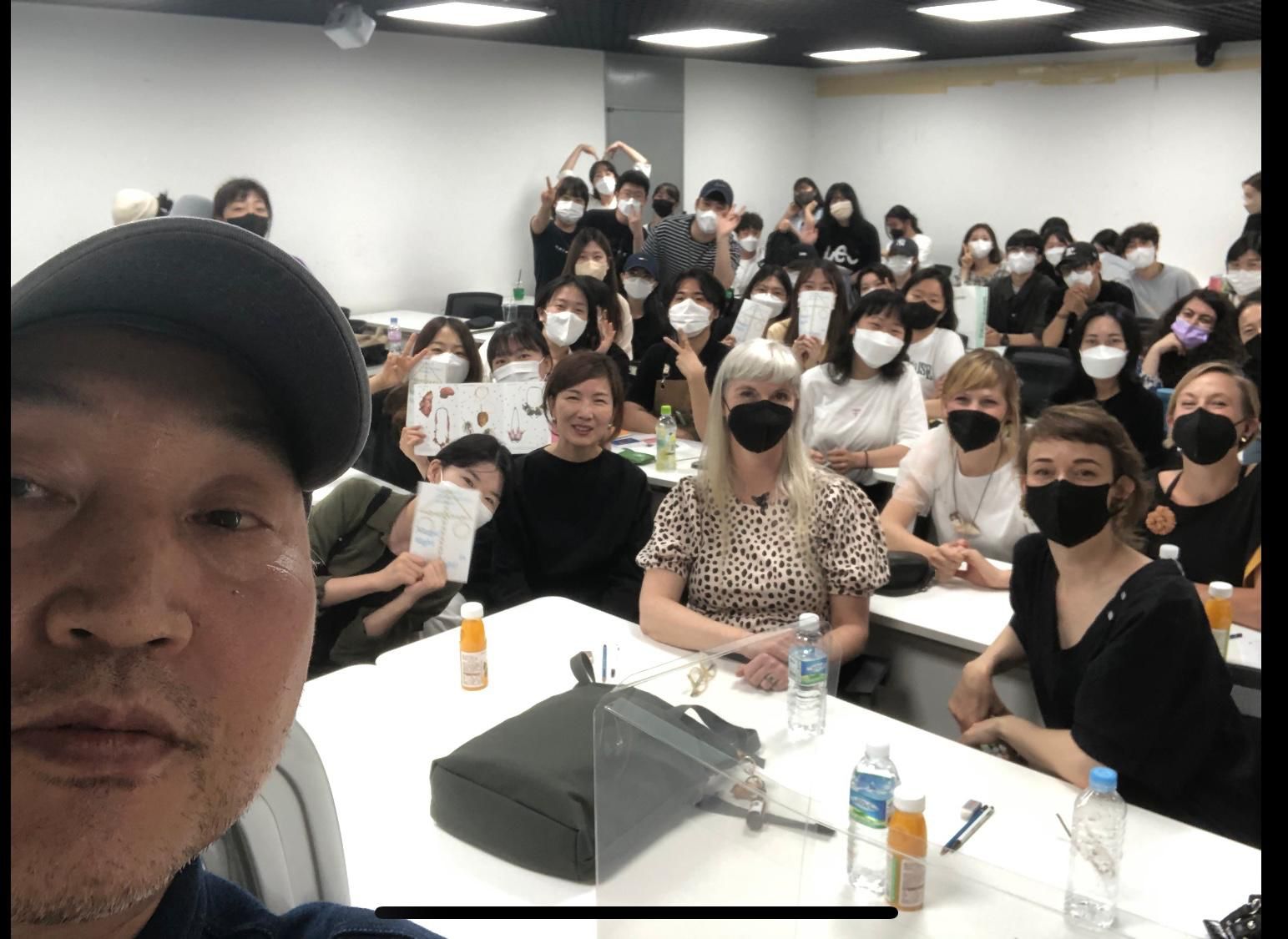 Lecture at Kookmin University, Dongchun Lee and his students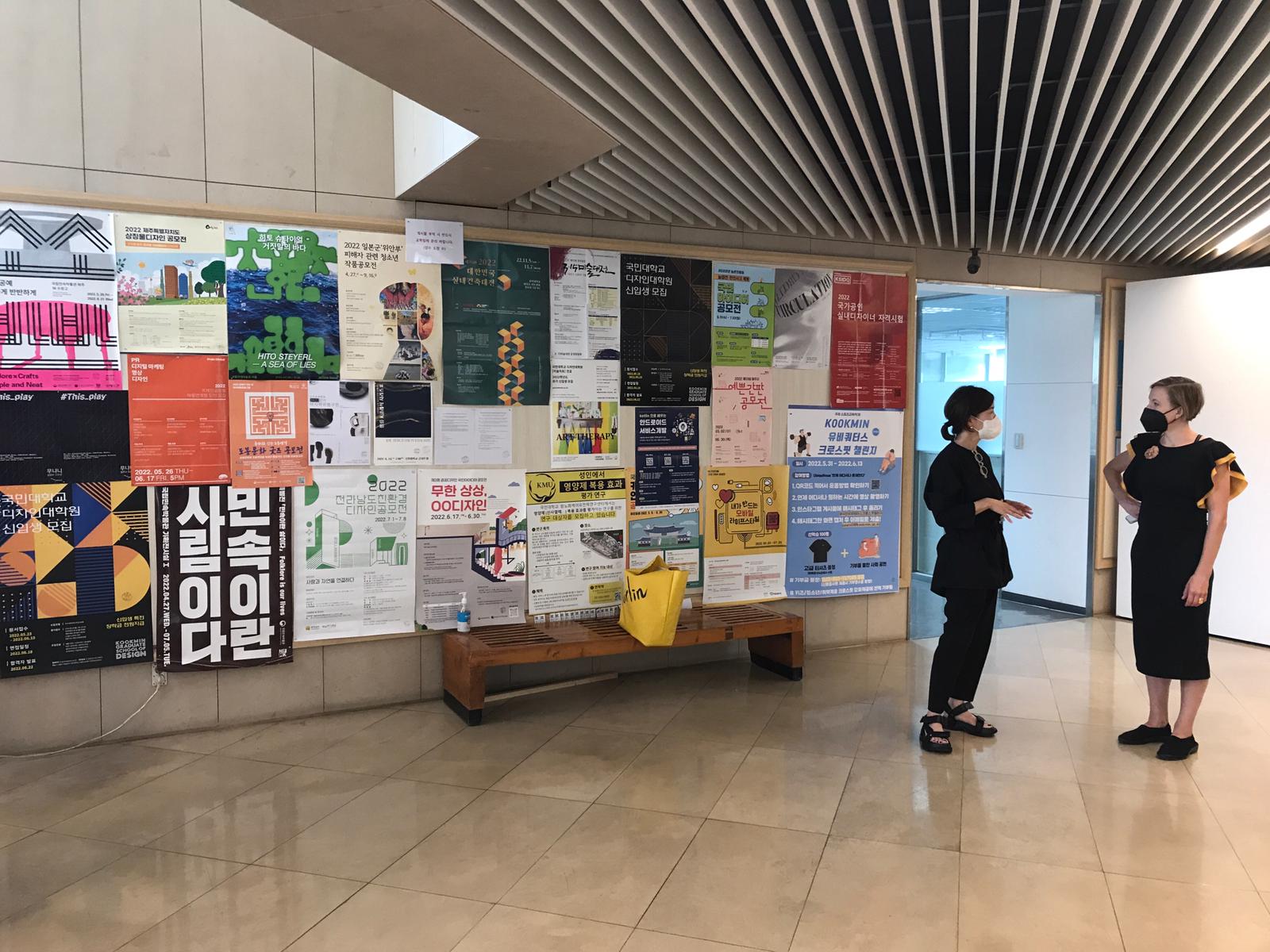 Me and Miwha Oh at Kookmin University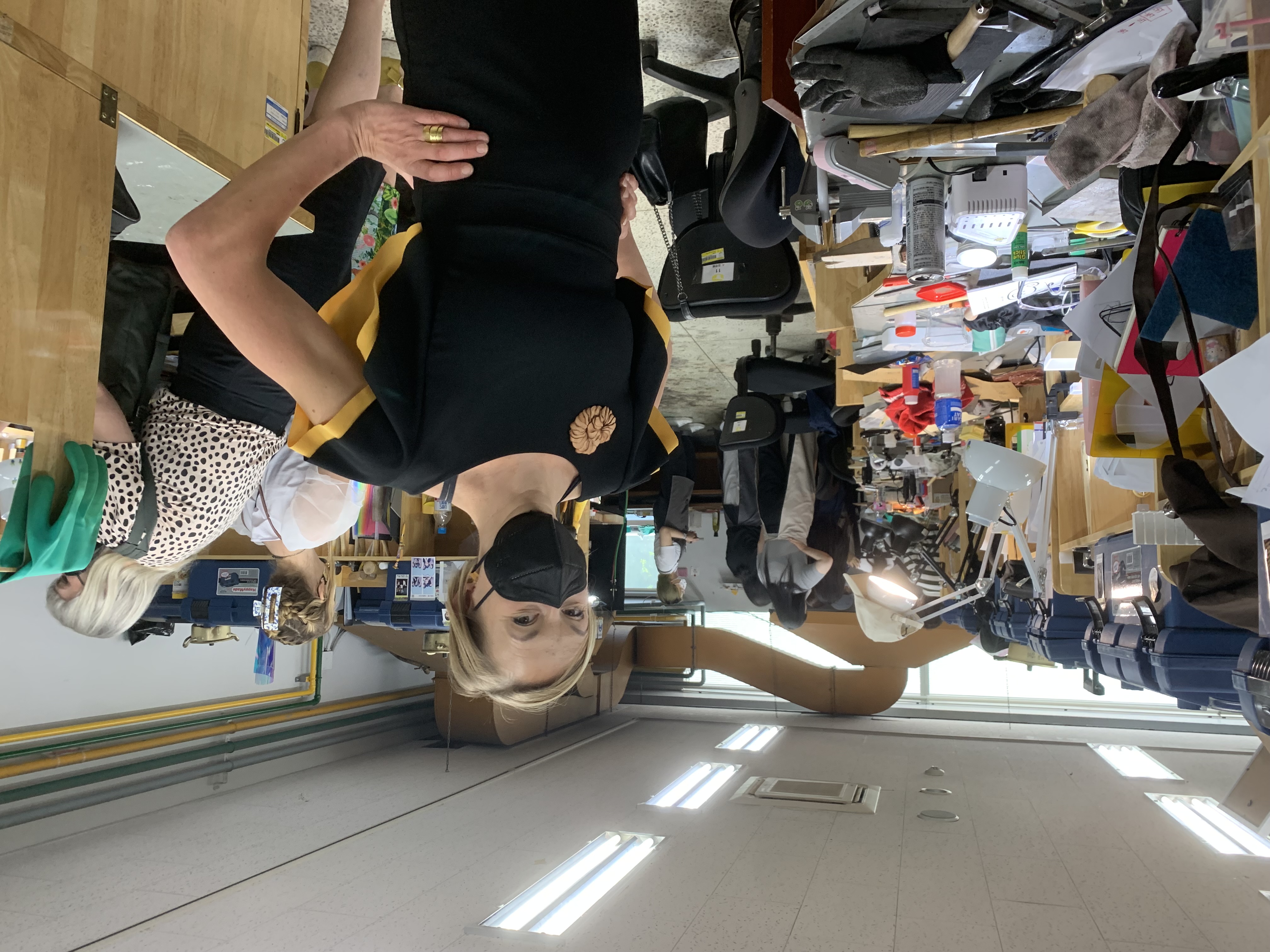 In spite of the rain on the opening day a lot of people came to se the exhibition. The pieces didn't stay on the places we had put them – people wanted to touch them and try them on and they moved around, just as they should in a contemporary jewellery show.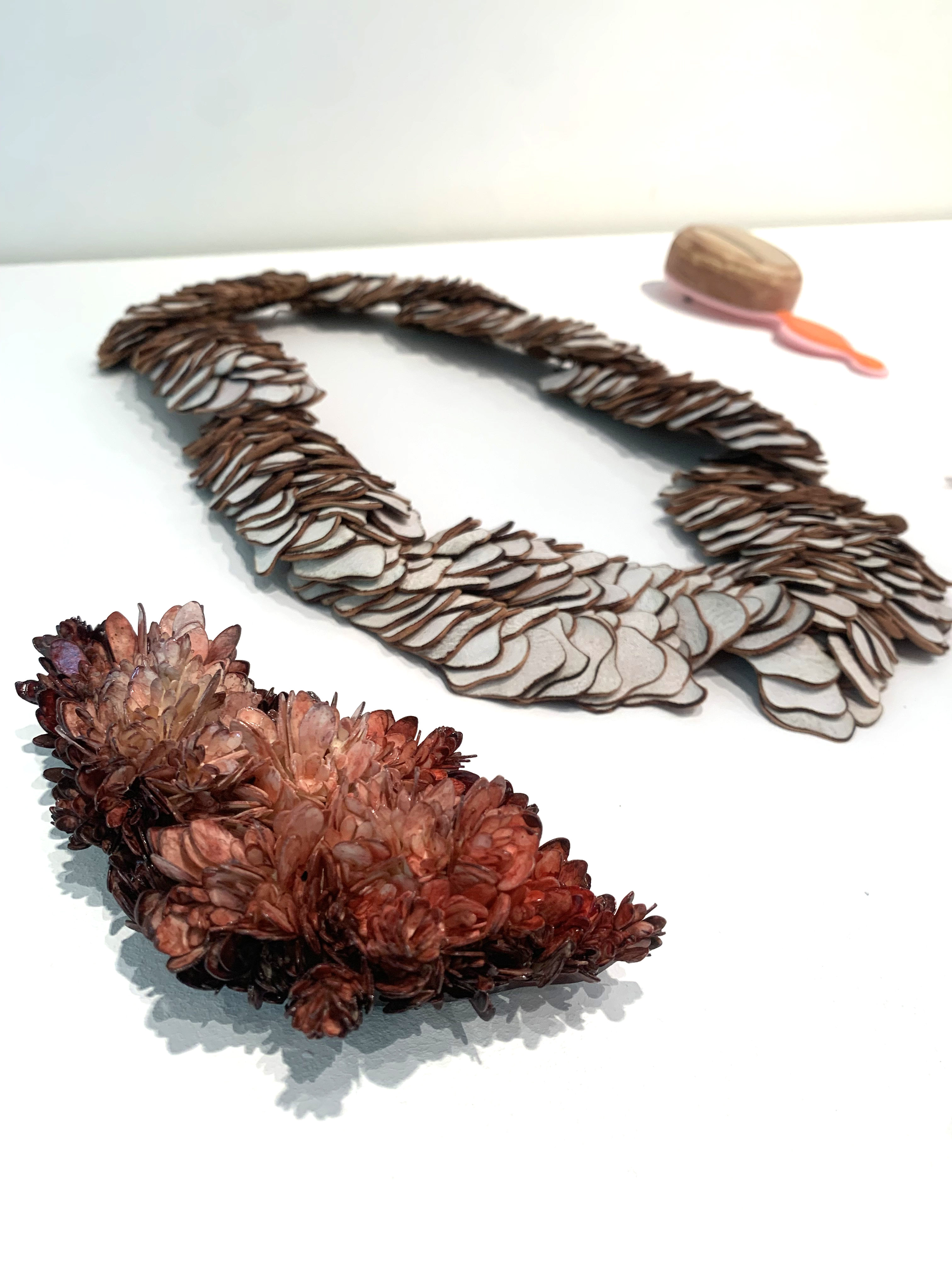 Within, 2022, brooch by Hanna Liljenberg made of paper, acrylic paint, lacquer, silver and steel. Signe's II, 2021, necklace by Karin Roy Andersson made of  naturally tanned reindeer skin, thread, steel and silver. Snus & Dus, 2022, brooch by Tove Knuts made of birch-bark and plexiglass.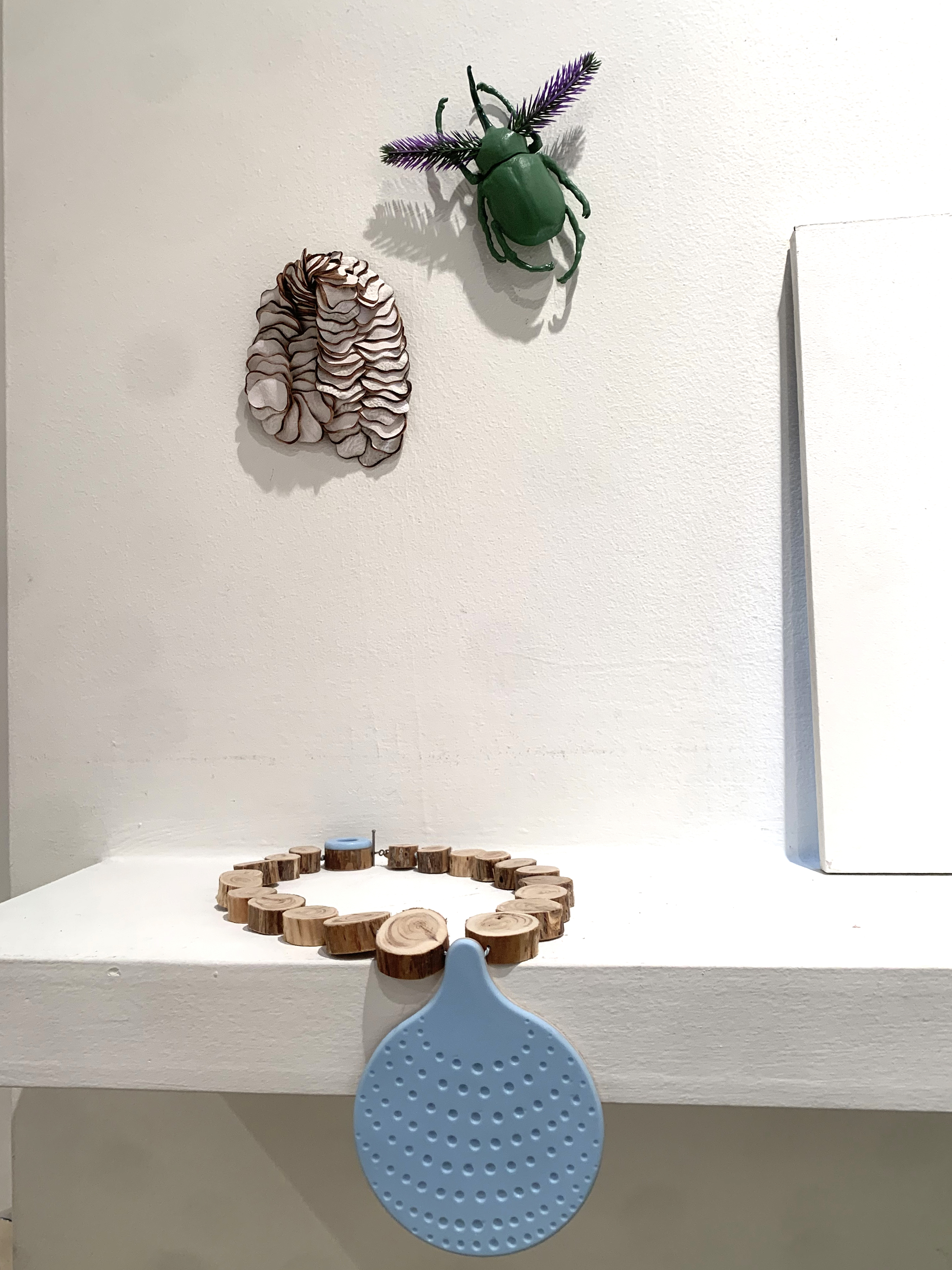 En för alla, alla för en I, 2020, neckpiece by Tove Knuts made of wood and plexiglass. White Bird Shoe I, 2022, brooch by Karin Roy Andersson made of naturally tanned reindeer skin, brass, steel and thread. Pinecone, 2022, brooch by Märta Mattsson made of beetle, copper, rubber, lacquer, resin, steel and gold.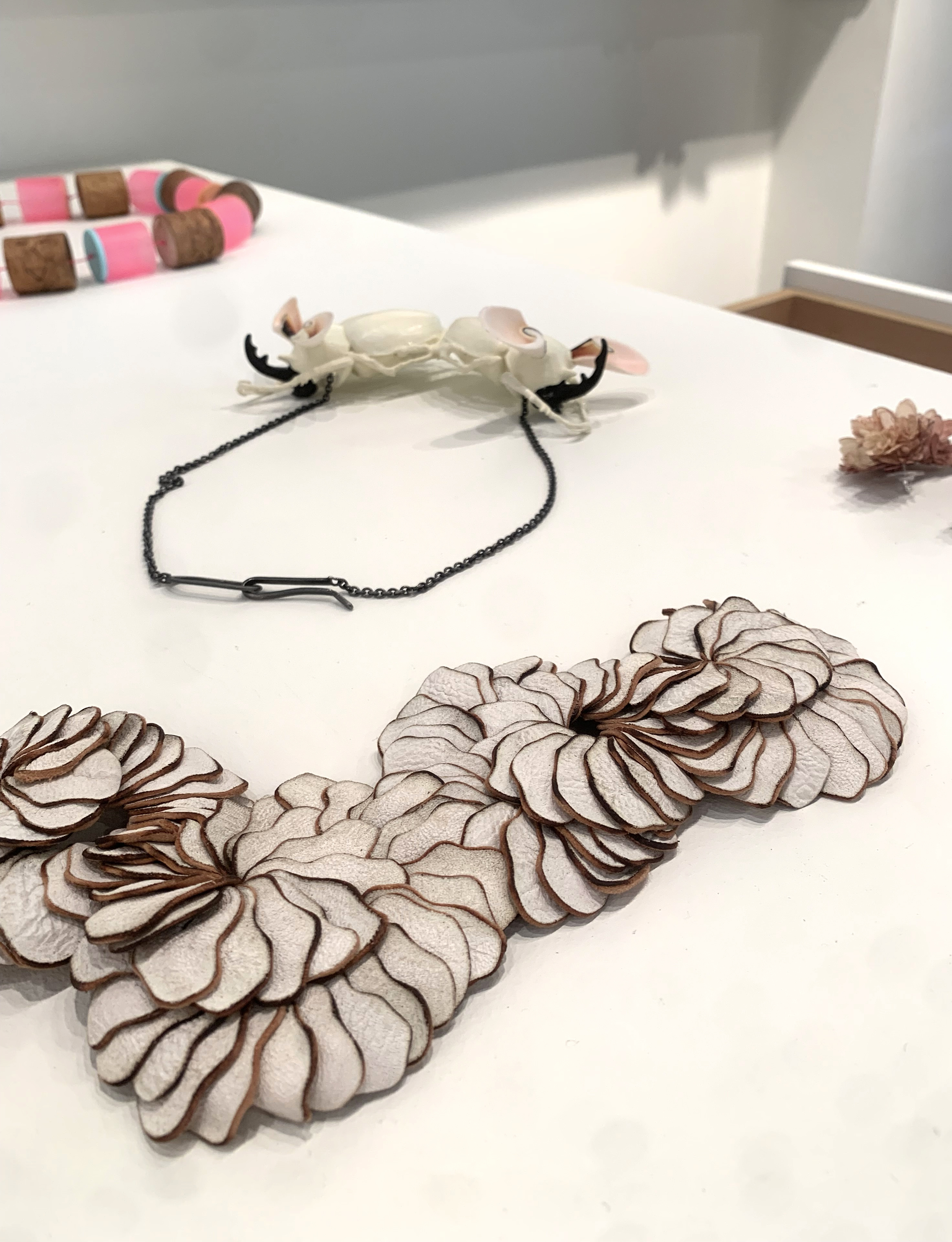 Vendla's I, 2021, brooch by Karin Roy Andersson made of naturally tanned reindeer skin, steel and thread. In the background necklace by Märta Mattsson, earring by Hanna Liljenberg and necklace by Tove Knuts.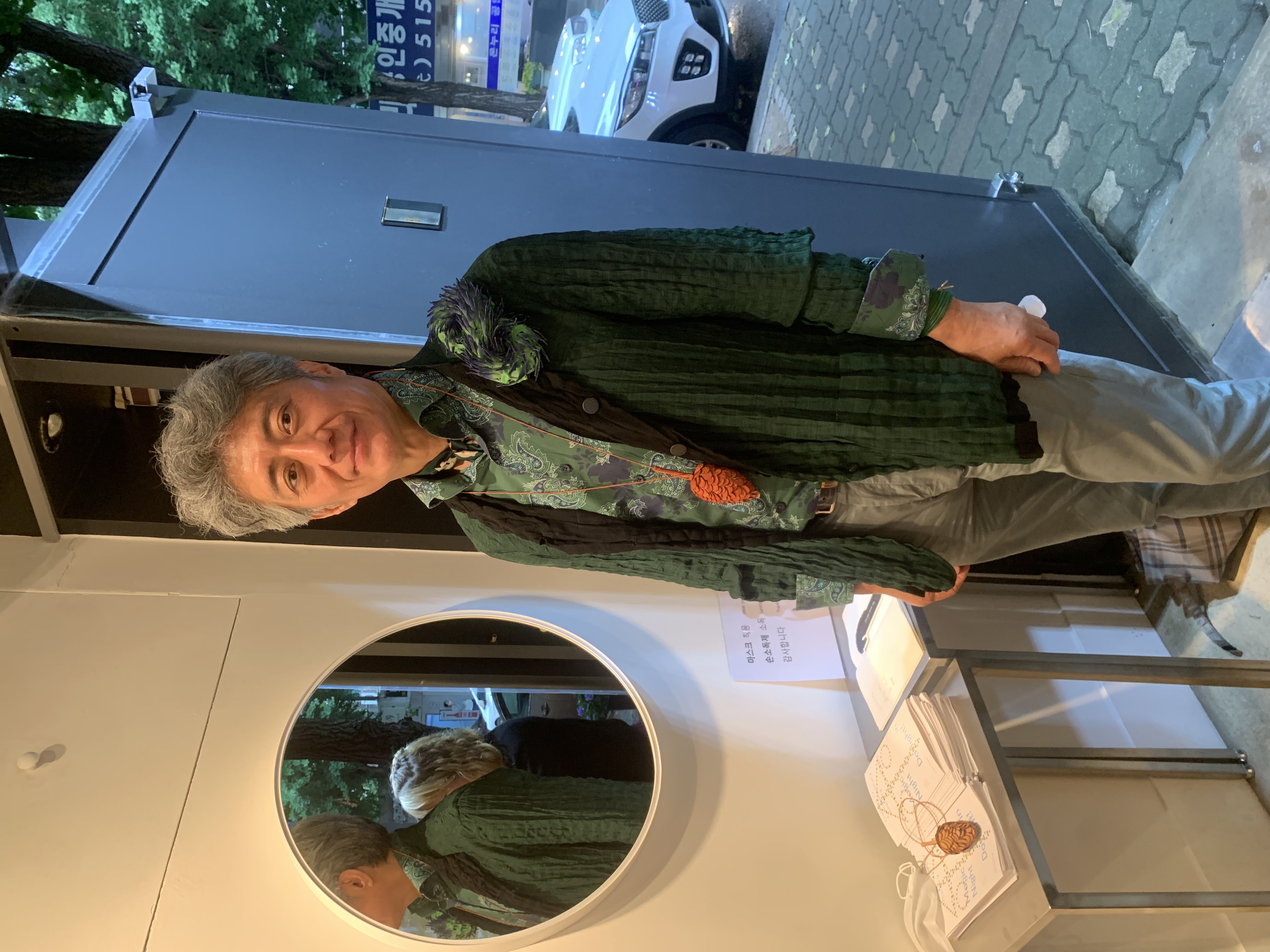 One of the visitors, TJ Um, with one of my "Exotic Fruits"
So happy that I got to make this trip and that I got to do it with my lovely friends and colleagues – Hanna, Tove and Märta. You rock!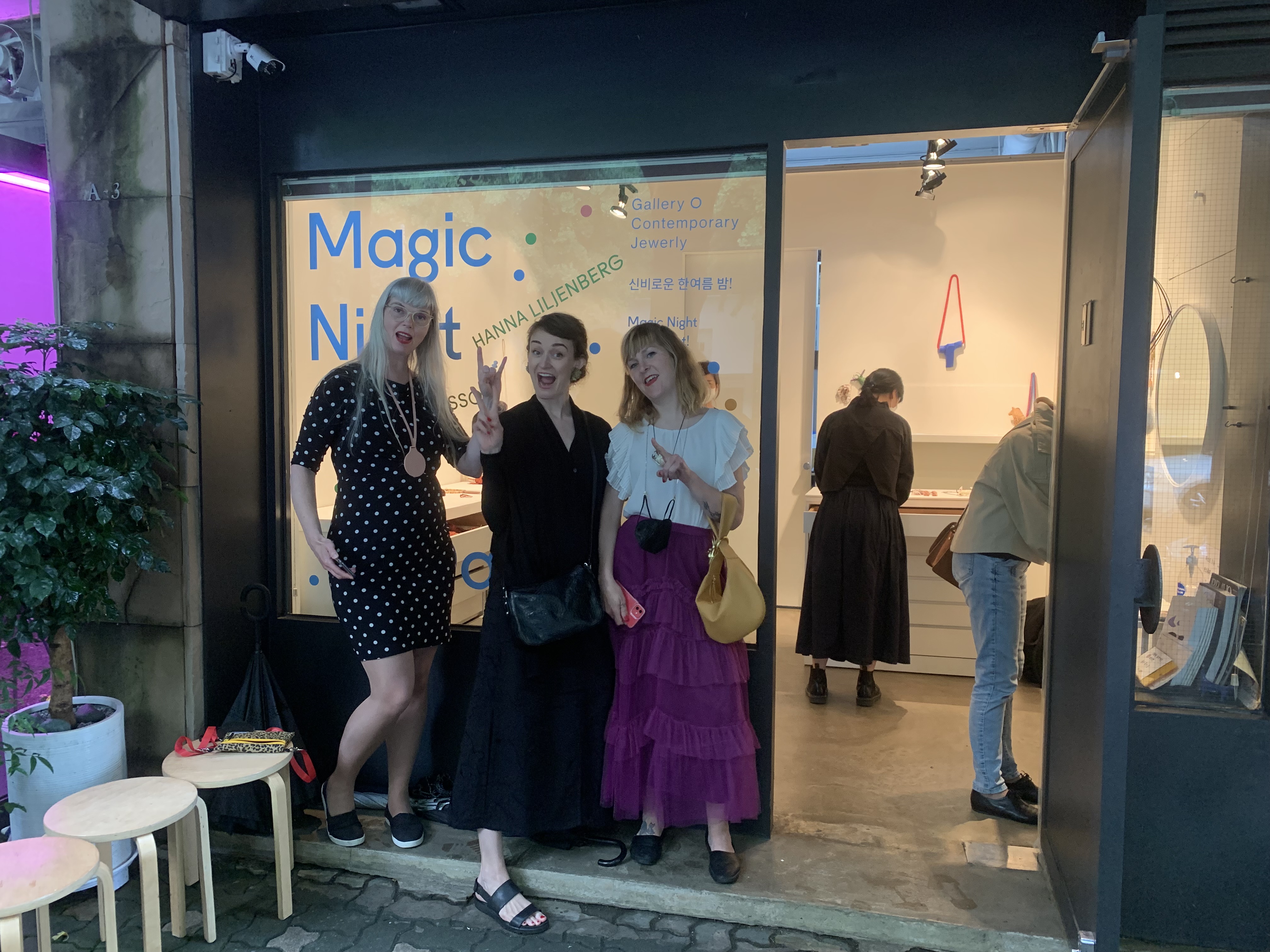 Tove Knuts, Hanna Liljenberg and Märta Mattsson outside the gallery
The project and the trip to Seoul was supported by:


OTHER ARTICLES ABOUT: