Melting Point – Valencia 2018
During the fourth edition of the international biennial Melting Point in Valencia many exhibitions, conferences and events took place – among them were the two exhibitions "If it was blue as the sky, we would love each other" and "Platina for Pleasure".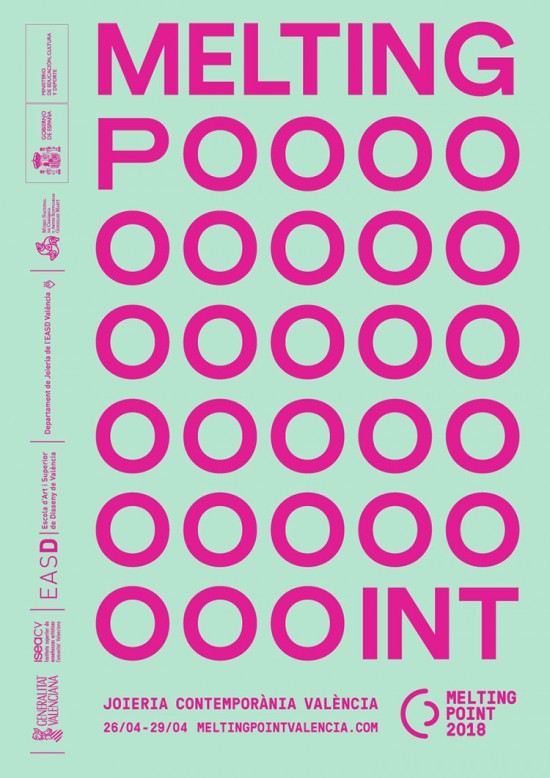 Sofia Björkman is a jewellery artist from Stockholm in Sweden. After graduation from Konstfack 1998 she started PLATINA, a gallery and studio for contemporary national and international jewelry art. Since then she has been working with jewellery art, as an artist, as a gallery owner and as a curator combined with all kinds of activities within the jewellery field.
During Melting Point in Valencia 2018 Sofia Björkman organized two exhibitions at the González Martí National Museum of Ceramics and Decorative Arts. One of the exhibitions was a solo with her own work, the other was a curated group exhibition including ten artists from PLATINA.
April 26 – May 7
González Martí National Museum of Ceramics and Decorative Arts,
Carrer del Poeta Querol, 2, València
Lecture with Sofia Björkman: "Eighteen years with PLATINA"
Friday 27th of April, EASD, Escola d'Art I Superior de Disseny de Valencia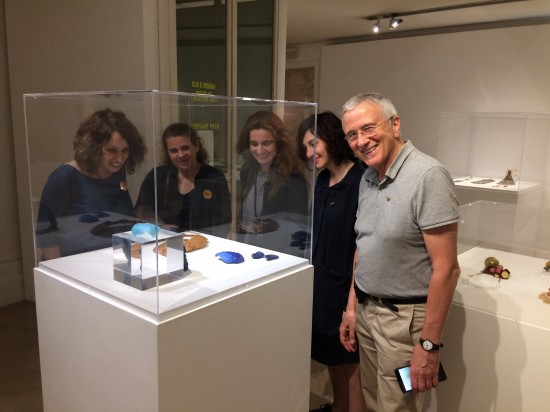 Opening at González Martí National Museum of Ceramics and Decorative Arts
Platina for Pleasure
Artists: Karin Roy Andersson (SE), Christer Jonsson (SE), Hanna Hedman (SE), Aud Charlotte Ho Sook Sinding (NO/SE), Hanna Liljenberg (SE), Anna Norrgrann (SE), Helena Sandström (SE), Andrea Wagner (NL),
Mallory Weston (US), Annika Åkerfelt (FI/SE). Curator: Sofia Björkman
The title of the exhibition, PLATINA for pleasure, speaks of the most basic force that underlies the choices we make in life. The word pleasure describes the broad class of mental states that we experience as positive, enjoyable, or worth seeking. Many pleasurable experiences are associated with satisfying basic biological drives, but also social experiences and daily work. To make changes, to express joy or sadness, to speak up and highlight issues are ways to give different perspectives on life. The chosen artists for this exhibition were selected because of their very special ways of describing various content in life. They also play different roles in the curators' professional life. Christer Jonsson was Sofia Björkman's professor when she graduated and received her master in fine arts. Aud Charlotte Ho Sook Sinding was an artist that early on made strong impact but tragically passed away too young. Most of the artists are based in Sweden, but the gallery has always exhibited international artists. Andrea Wagner and Sofia Björkman met at a workshop in Holland and Mallory Weston from USA exhibited recently in the gallery in Stockholm.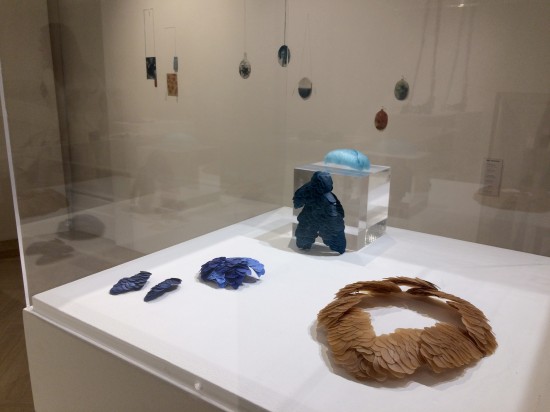 Necklace, brooches and earrings by Karin Roy Andersson, in the back; pendants and brooches by Anna Norrgrann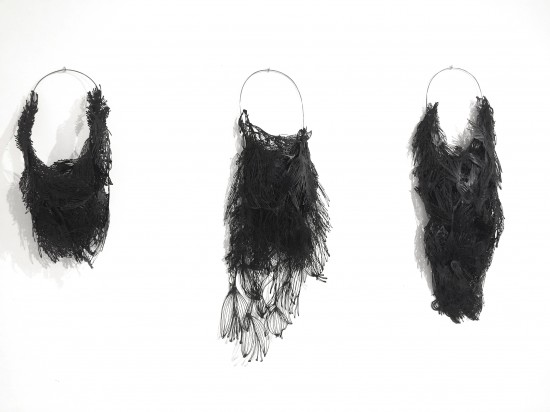 What has the bird done? Neckpieces by Sofia Björkman
If it was blue as the sky, we would love each other
Artist: Sofia Björkman
In Sofia Björkmans' solo exhibition "If it was blue as the sky, we would love each other" she showed works that have been made the last ten years. In her profession she meets a lot of people that comment and give critique of what they see. This influences her, and sometimes she even let comments be a part in her artistic practice. This is a way for her to understand works and to express the experience being an artist and a curator at the same time. She says that wearable jewellery can easily be moved from one context to another and can therefore cause other reactions than exhibited in art environments. Mobility and flexibility broaden a piece's potential of having impact and eliciting various reactions.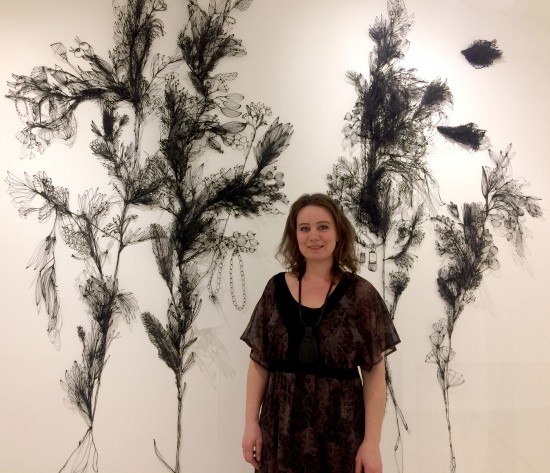 Sofia Björkman in front of her wall installation What has the bird done?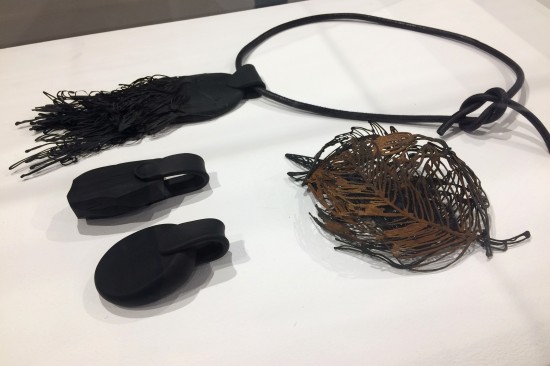 Pendants and brooch by Sofia Björkman
During Melting point I also participated in Joyas cruzadas at Centre del Carme Cultura Contemporània a jewellery event aiming to make contemporary jewellery visible to the common public. During one hour all the participants walked around in the exhibition space wearing each other's jewellery pieces. The goal was to generate complicity between the pieces, the models, the casual visitors and the audience of the Melting Point festival, while at the same time awakening curiosity and generating debate about the space of contemporary jewelry. The visitors of the museum were invited to take part in a kind of quiz where the task was to match the right piece of jewellery with information such as material, weight and title listed on the questionnaire.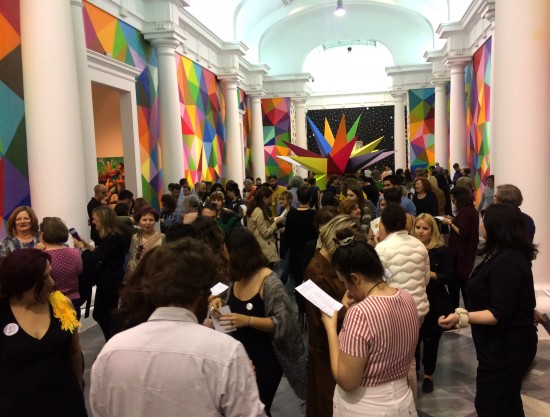 Joyas Cruzadas at Centre del Carme Cultura Contemporània
As always in the world of art jewellery one of the best thing was to get to spend some time with my absolutely fabulos colleagues. Thank you everyone – you rock like sparkling diamonds!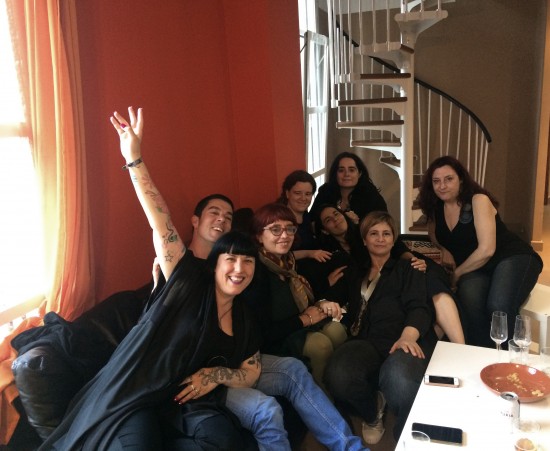 OTHER ARTICLES ABOUT: